Text:
Golden Box, Plus Vitamin E Formula
FAMOUS HERBAL SOAP FOR WOMEN
100% AUTHENTIC and HIGH QUALITY Soap
Ship from THAILAND where is Original Source
The Best Feminine Hygienic Product for Women
The one Charming item in front of you
Why still wait to try it?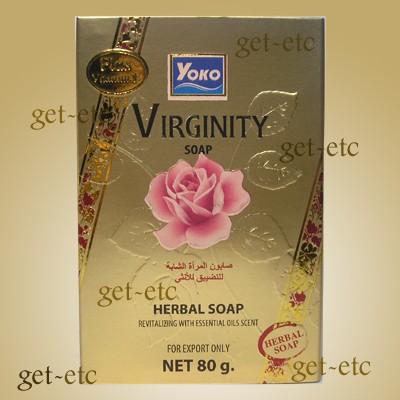 We sell only real and authentic products, high quality of daily living product can help people to live with healthy.
We deal with health and beauty source in Thailand. All products are good and can be trusted. Don't waste time to find from other shops.
Because we care for your Health & Beauty. We promise to provide unique and effective products to serve you.
You're bidding for 1 BOX of

"YOKO Virginity Soap

"
It's very famous feminine soap brand from Thailand.
Export to many countries in the world, so no need to tell more for its high quality!
Herbal virginity soap directly from original source!
Don't wait to try it now, Try it by yourself !
It's Antiseptic V-WASH Soap and good for every woman.
A required product for cleaning female sensitive area.
This is GOLDEN BOX of Yoko Virginity Soap Version.
Full of high quality within 80 g. per a bar.
You'll impress in charming ingredient in this unique soap.
Very attractive smell, can feel of female atmosphere.
100% Authentic from original country, THAILAND.
It's save money to purchase in lot of 3-12 boxes. That will good for you.
I order from its original factory, and will list more other YOKO products.
Tracking many unique YOKO products in my ebay store soon!
Cannot Miss! to BUY IT NOW and know it by yourself !
International wholesale orders are welcome!
Please contact us for more information about products and shipping.
FIMININE TIGHTEN

REVITALIZING WITH ESSENTIAL OILS SCENT
YOKO Virginity Herbal Soap
is especial plus vitamin-E formula for cleaning the most sensitive area of a woman without leaving any residue and dryness. Maintains the proper natural moisture of skin reducing inflammation and irritation.
Free the skin from bacteria and other infections, itching, burning sensation and unpleasant odors. It also tighten vaginal muscle.
This is feminine hygienic herbal keeps your private part clean or sensitive skin and free from unpleasant oder due to bacteria. Clinically proven be safe, mild, gentle and hygienic feel. After using you are fresh and without unpleasant smell but clean.
Direction:
Lather and apply gently to clean intimate area. Rinse well. Use every time you take a bath or wash.
Ingredients:Sodium Palmate, Aqua, Sodium Palm kernelate, glycerine, witch hazel extract, octoxyglycerin, titanium dioxide, triclosan, etidronic acid, fragrance.
Return Policy:
If you unsatisfy and want to return the item, please contact us within 7 days from receipt. You need to return item in original package and good condition. We'll refund

after

we received the return item only. (shipping cost and tax cannot be refunded). You have to response tax and return shipping cost.
Contact by e-mail:

get_etc@yahoo.com

or by ebay message.